Decks
Imagine having your friends and family over at your house. Do you have the space for all of them? Is there room to move about? Is everyone trapped indoors, or is this an outdoor affair? Turn your backyard into an extension of your home's living space, work with VanHoose Fence Company. We'll work closely with you to create a deck addition that flows seamlessly into your home, enabling you to take full advantage of your outdoor property.
VanHoose Fence Company has been installing backyard essentials for more than 10 years now here in the OKC area, and during that time, we've perfected the ins and outs of building and installing decks. From the initial consultation to the finishing touches, we execute our tasks with precision, efficiency, and care. Our staff keeps all clients informed during every step of the process, ensuring that you remain confident in the progress of your new deck.
With no hidden costs and only the finest materials, we are confident you'll love your new decking build. If you can dream it, we can build it. No homeowner should ever have to settle for a deck that doesn't meet their exact specifications. As a result of this belief, we ensure you never settle — your vision drives the design of your deck, matching your preferences. Contact VanHoose Fence Co. today to learn more and receive a free consultation.
You can also continue reading to learn design considerations that you might want to consider for your upcoming deck, as well as answers to some of the most common questions that we encounter surrounding our deck building services — both of which are listed below.
Considerations for Your Deck
Square Footage
First things first, you should consider the total square footage of your deck. If you'd like a spacious deck, that includes plenty of room for seating, a cooking station and grill, and even an outdoor bar, then you'll need to build the ultimate deck and your square footage may be several hundred square feet. On the other hand, if you just want a small deck to sip your morning coffee while you read the paper, fewer than one hundred square feet could prove to be plenty of space.
---
Seating
Are you going to host parties, or do you plan on sitting the whole family down for a meal in the open air? If so, you should consider where everyone will sit. You can leave room for a dining table and seats, or you can opt to build in benches for more casual congregations.
---
Shade Coverage
We all know that the sun can be blazing hot during an Oklahoma summer. If you need a place to escape from the heat, you might consider installing a pergola or awning to keep your deck shaded. We can help you with those builds too.
---
Integrating Your Landscape
Does your deck extend out into your landscape? You may have to consider where things will meet. If you have trees near your deck, consider how they will grow throughout the years. Or, if you'd like to extend your deck into the yard, consider a staircase in the design, so that folks can wander into the grass from your new deck.
---
Finish Coat
The finish coat of your deck will be largely an aesthetic choice. Consider a clear coat or stain if you'd like to maintain the natural look of the wood of your deck — this is a common choice for folks who have homes whose facades are made of brick, stone, or other natural materials. You may also opt for a more matte finish, to give your deck a completely different look. Consider how your deck will look as it's butted up against your home.
---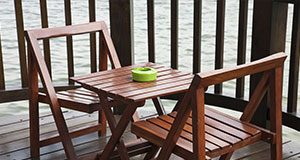 Safety
If you're building a deck that rises off the ground, you'll have to install railings to ensure that it is safe — especially if your deck is a second-story deck. We can tack on railings to keep folks and their kiddos safe while they're enjoying your new deck.
---
Special Builds
Do you have a hot tub that you'd like to build around? Or perhaps you'd like to install planters on your deck? If you have any special considerations in mind, be sure to let us know. We can implement your special requests, to personalize your deck to your vision. If you envision installing a built-in fireplace, special deck lighting, or any other specific designs, we can make sure those special considerations come to fruition.
---
Staircases
Whether you have a deck on the second story of your home, or you envision a deck that simply floats a few feet above your landscape, you'll have to consider building out a staircase to connect your deck with the rest of your property. Oftentimes, folks opt to build a railed staircase that hugs the edge of their deck if they're designing a deck that is high off the ground. For lower decks, you may have a staircase that skirts part of the deck, or possibly the entirety of the deck, providing a pathway down to your backyard or lawn. If you have mobility issues, or you plan on having visitors who may not be able to use the stairs, then we can install sloped access to your deck, to make it accessible.